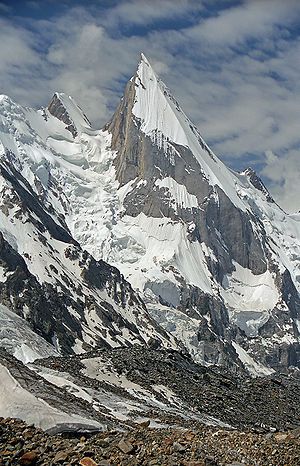 English: Laila Peak (Hushe Valley), 6096 m, (Gondogoro Glacier Area, Central Karakoram, Pakistan) Français : Pic Laila (6096m), Vallée de Hushe, Zone du Glacier Gondogoro, Karakoram central, Pakistan.
In 1986, a route was established that connects
Concordia
and the upper
Baltoro Glacier
to the Hushe Valley over the Gondogoro Pass(5940m). Since then, this challenging technical pass has attracted trekkers and climbers alike. This pass has one of the most overwhelming mountain panoramas anywhere in the world, with all of the Karakoram's 8000m peaks close at hand. The Gondogoro La, although popular with trekkers, involves Class 4 climbing. The North side is a 50-degree snow slope with
Avalanche
danger requiring fixed ropes. The south side is a continuous 50-degree slope with rock-fall and avalanche danger that requires fixing as much as 300m of rope.
When to visit
The pass is easier to cross earlier in the season and can be attempted as early as the last three or four days in June. Any earlier and you are likely to be the first party of the season to break the trail. By August, objective dangers from crevasses, avalanches and rock fall increase substantially as the snow cover begins to melt. It may be approached either from the Askole village all the way over Baltoro Glacier leading to Concordia and Ali Camp over Vigne Glacier or from Hushe valley through Charakusa valley over Masherbrum glacier leading to the foothills of Gondogoro and Laila Peaks.
Even though the ascending and descending sides of the pass have fixed dynamic ropes, Crossing this pass requires good judgement, commitment, top fitness, prior acclimatisation and basic mountaineering skills of all members. Since the slope that comes down into Hushe valley is too steep, climbers and trekkers use
crampons
especially while descending. For the immature climbers and trekkers with minimal climbing training and experience, rescue workers stay at the top of the pass to assist them. They are highly skilled local climbers and high altitude porters. For such services they charge nominal fee but provide excellent quality of service.