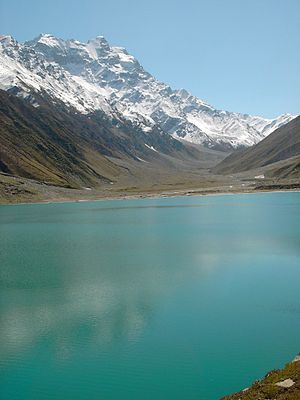 English: Saif ul Maluk Lake, Kaghan Valley. in Saiful Malook National Park, Khyber Pakhtunkhwa, Pakistan. Photo by Joonas Lyytinen. (Photo credit: Wikipedia)
Saiful Muluk (
Urdu
:

جھیل سیف الملوک

‎) is an
alpine lake
located at the northern end of the
Kaghan Valley
(
The weather here is moderate during day time while the temperature drops to negative temperatures at night.
Saiful Muluk is located in District Mansehra of
Hazara Division
. It is about eight kilometers North of Naran,

[

2

]

in the Northern part of Kaghan valley.
Malika Parbat
, the highest peak in the valley is located near the lake.

[

3

]
Physical features
Saiful Muluk was formed by
glacial moraines
that blocked the water of the stream passing through the valley.

[

4

]

Water from multiple glaciers around the lake feed it.

[

1

]
History
A fairy tale called Saiful Muluk, written by the famous
Sufi
poet
Mian Muhammad Bakhsh
, is associated with the lake.

[

5

]

It is the story of the prince of Persia who fell in love with a fairy princess at the lake.

[

6

]

The impact of the lake beauty is of such extent that people believe that fairies come down to lake in full moon. A poet and writer from Balakot Dr Mujahid hussain wrote the story of Saiful Muluk in prose depicting the local version.
Ecology