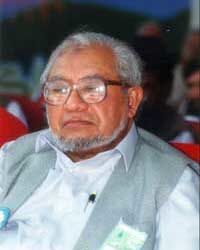 Professor Khurshid Ahmad (Photo credit: Wikipedia)
Khurshid Ahmad was born into a religiously firmed family on 23 March 1932 in Delhi (now part of
Republic of India
and state capital as well), former
British Indian Empire
. His family had a deep ultraconservative background with Islamic teachings and practices were strictly followed.
[1]
After being home schooled and gaining traditional Islamic education, Ahmad entered in Anglo-Arabic higher secondary school in Delhi where he excelled with good marks and standings.
[1]
In 1947, his family moved to newly
established
state,
Pakistan
, and settled in
Lahore
,
Punjab Province
.
[1]
In 1949, Ahmad enrolled in
Government College University
(GCU) where he studied commerce and economics where he gained first position in his courses.
[1]
It was his years at the GCU where he developed serious interest and interaction between
Capitalism and Islam
, the twin passions of much of his life work. The same year, he became active
Islamic activist
and subsequently joined the
Jamaat-e-Islami
.
In 1949, Ahmad published his first
English
article on "
Muslim Economist
", where he commentated and proposed ideas on
First
Five-Year Plans
for the national economy of Pakistan.
[1]
In 1952, Ahmad earned
BA
with
First Class Honours
in
Economics
and
Commerce
, and graduated with top standing in his batch of graduating class of 1952 of the GCU.
[1]
He entered in GCU's law college the same year and earned
LLB
with emphasis in
Islamic law
and
jurisprudence
.
[2]
During this time, he became an active member of
JeI
and continued his passion for teaching Islamic studies in Lahore. As an aftermath of
1953 riots
in Lahore and massive arrests of JeI activists, Ahmad moved to
Karachi
,
Sindh
and enrolled in
Karachi University
for his higher education. At Karachi University, Ahmad earned
MSc
with
Hons
in
Economics
where his master's thesis contained the work on fundamental concepts of
Adam Smith
's pioneering work on
Capitalism
.
[2]
Islam and political activism
In 1949, after publishing first article on economics, Ahmad began studying the teachings of
Abul Ala Maududi
. Ha came to know Maududi as a frequent visitor in his father's house; it was only in 1949 that he encountered Maududi as the religious scholar for the first time. In particular, he was impressed with Mawdudi's discussion of both Islamic and Western thought and the conflict between Western civilization and Islam.
Khurshid Ahmad became a member of
Islami Jamiat-e-Talaba
(IJT) in 1949 and was elected as the
Nazim-e-A'la
(President) of the same organization in 1953. He formally joined
Jama'at-e-Islami
Pakistan
in 1956 and is at present Naib Ameer (Vice President) of the organization. Besides several other responsibilities, he is presently also the editor of the seminal
Tarjuman al-Quran
, a monthly publication launched by Sayyid Mawdudi in May 1933.
Literary contributions
Prof Ahmad has been editing a number of ideologically oriented magazines and periodicals. He has authored and edited about 70 books in
English
and
Urdu
combined and contributed to a large number of magazines. He has so far participated in over 100 international conferences and seminars in personal as well as representative capacities.
Portfolio
His in-depth comparative study of the
oriental
as well as
occidental
philosophies in religion, academics, economics, constitutional matters and commitment for
Islam
has led him to be entrusted with key positions in the national as well as international organizations on these socio-economic and other multi-dimensional disciplines. Throughout his life, he has held the following positions:
Member of Senate of Pakistan (2003 to 2012).

[3]

Vice President Jama'at e islami Pakistan.

Federal Minister of Planning and Development and has been Deputy Chairman of the Planning Commission, Govt of

Pakistan

(1978–79).

Chairman, International Institute of Islamic Economics, International Islamic University, Islamabad (1983–87).

President, International Association of Islamic Economics, Leicester, UK (1984–92).

Vice President, Standing Conference on Jews, Christians and Muslims in Europe, Berlin and London (1974–78).

Member, Advisory Council, Centre for the Study of Islam and Christian-Muslim Relations, Selly Oak Colleges, Birmingham, UK (1976–78).

Member, National Hijra Committee, Govt of Pakistan (1978–83).

Member, Committee of Jurists to Evaluate Islamic Laws in

Sudan

(1986–87).

Member, International Review Committee, Islamic Research and Training Institute, Islamic Development Bank,

Jeddah

(1988–89).

Member of Senate of Pakistan for two terms (1985–1997) and Chairman of the Senate Standing Committee on Finance, Economic Affairs and Planning.

Member, Boards of Trustees of Islamic Centre, Zaria (Nigeria); International Islamic University, Islamabad; Foundation Council, Royal Academy for Islamic Civilization, Amman (Jordan).

The Harvard University, USA presented him an honorary doctorate (Ph.D.) most recently.
Awards
In view of his pioneering work and contributions towards the development of Islamic Economics as an academic discipline, he was awarded the First Islamic Development Bank Award for Economics in 1988.
His contributions to the Islamic cause were also recognized in the form of King Faisal International Prize,1990, which is the equivalent of the Nobel Prize in the Muslim World.
In recognition of his services in Islamic Economics & Finance, he was given 5th Annual Prize of American Finance House,
LaRiba
, US in July 1998.
He has given lectures and speeches at several renowned universities around the world, like Warwick (UK), Harvard (US), Washington St. Louis (UK), UofT (Canada), and IIUM (Malaysia).