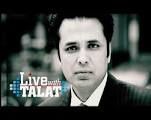 Hussain is married, has 3 children, and lives in Islamabad.
[

citation needed

]
In the late 1990s, Hussain ran the morning news show
Sawaray Sawaray
on
PTV
. Later, after the opening of PTV World, he started another program called
News Night
.
[

citation needed

]
Sawaray Sawaray - PTV
News Night - PTV
Live with Talat - AAJ TV (First Show: 23rd March, 2005, Last Show: 29 Oct, 2010)
News Night With Talat – Dawn News (First Show: 8th November 2010)
Live with Talat - Express News (currently)
On the 30th of May 2010, Hussain was aboard the convoy amid conflict during the
Gaza flotilla raid
. Due to loss of communications, Hussain's status and whereabouts were unknown for a while, and a spokesman for the
Ministry of Foreign Affairs
stated "the Government of Pakistan is seriously concerned over the well-being and whereabouts of the Pakistani citizens and media personnel including Syed Talat Hussain and Raza Mahmood Agha (both of them from
AAJ Television
) who were on board the Flotilla bound for Gaza. The Foreign Ministry is in constant touch with its
missions
in the region to ascertain the well-being of our nationals."
[2]
On June 1, 2010 Hussain was finally released through King
Abdullah II of Jordan
and returned to Karachi via Dubai.
[

citation needed

]