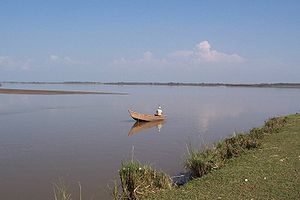 A view of River Chenab near Sialkot.
The waters of the Chenab start from snow melt from the
Bara Lacha
Pass,
32°44′N
77°26′E
 / 
32.733°N 77.433°E
 /

32.733; 77.433
, in Himachal Pradesh. The waters flowing south from the pass are known as the Chandra River and those that flow north are called the Bhaga River. Eventually the Bhaga flows around to the south joining the Chandra at the village of Tandi. A motorable road runs along the Bhaga River, from Khoskhas to Tandi. The Chandra and Bhaga meet to form the Chandrbhaga River at Tandi. It becomes the Chenab when it joins the Marau River at Bhandera Kot, 12 km from
Kishtwar
Town in
Jammu and Kashmir
.
History
The Chenab has the same place in the consciousness of the people of the Punjab as, say, the
Rhine
holds for the Germans, or the Danube for the Austrians and the Hungarians. It is the iconic river around which Punjabi consciousness revolves, and plays a prominent part in the tale of
Heer Ranjha
, the Punjabi national epic and the legend of
Sohni Mahiwal
.[

citation needed

]
Chenab today
This river has been in the news of late due to the steps taken by the Indian government to build a number of hydroelectric power dams along its length (in
India
), notably
Baglihar Dam
, as part of the
Indus Basin Project
. These planned projects on Chenab have been "contested" by Pakistan, though Pakistan's objections have been dismissed by the Indian government.
Bridges
There are several road and railway bridges on Chenab
To be informed of the latest articles, subscribe: