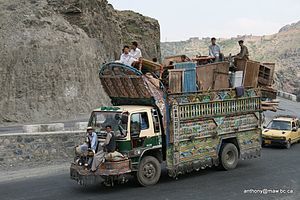 Typical highly decorated Pakistani transport truck and passengers travelling over Khyber Pass. (Photo credit: Wikipedia)
History
Hari Singh Nalwa
, who manned the Khyber pass for years became a household name in Afghanistan.
To the north of the Khyber Pass lies the country of the
Mullagori tribe
. To the south is Afridi
Tirah
, while the inhabitants of villages in the Pass itself are
Afridi
clansmen. Throughout the centuries the
Pashtun
clans, particularly the Afridis and the Afghan
Shinwaris
, have regarded the Pass as their own preserve and have levied a toll on travellers for safe conduct. Since this has long been their main source of income, resistance to challenges to the Shinwaris' authority has often been fierce.
During
World War II
concrete "
dragon's teeth
" (tank obstacles) were erected on the valley floor due to British fears of a German tank invasion of India.
[

3

]
The Pass became widely known to thousands of Westerners and Japanese who traveled it in the days of the
Hippie trail
, taking a bus or car from
Kabul
to the Afghan border. At the Pakistani frontier post, travelers were advised not to wander away from the road, as the location was a barely controlled
Federally Administered Tribal Area
. Then, after customs formalities, a quick daylight drive through the Pass was made. Monuments left by British Army units, as well as hillside forts, could be viewed from the highway.