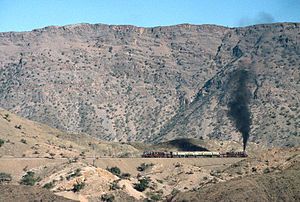 The Khyber Railway. With a Pakistan Railways HGS 2-8-0 at front and rear a charter train climbs the Khyber Pass through a series of zig-zags to gain height.
The train was ran on first Sunday of every month and on charter. The local population was allowed free rides.
After independence of Pakistan in 1947 a weekly train was started between Peshawar and Landi Kotal, running every Sunday. Train operations were stopped in 1982, as the railway was not commercially viable. However, in the 1990s, a tourist train, the Khyber train safari, was launched by a private enterprise in collaboration with Pakistan Railways. It was closed in 2006 after a flood washed away railway track and bridges.